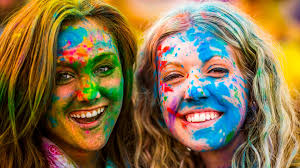 The festival of colors, Holi is just around the corner and while it is a fun festival to celebrate, thanks to the harsh chemicals in colors which takes a toll on our skin and hair. So if you are excited about the festival but are also concerned about the after effects, here's a help.
Chemicals on the skin and hair coupled with sun exposure and water splashes can leave them looking dull and damaged. Here are tips to prep your skin and hair so that you can enjoy Holi with minimal damage.
Moisturize Yourself: Apply a great amount of moisturizer which contains sunscreen all over your body. Make sure that the moisturizer has an SPF as it will help dodge the harmful rays of the sun!
Oiling is Must: Oiling your hair with warm coconut oil, olive oil or castor oil is an exercise which you cannot afford to miss. Apply oil all over your body at least 20-25 minutes before you start.
Ensure Clothing: Choose clothes which cover the maximum parts of your body. High-necks or full-sleeves clothes are best as the more you cover your body, the higher are the chances of saving your skin from chemicals.
Put a Nail paint: Apply nail polish to guard your nails against colors as this will give you a protective coat.
Drink Water: Hydrate your skin by drinking loads of water before you start playing Holi. Also, keep having small sips of water while playing Holi in the sun.
Take Care of your Lips and Eyes: Don't wear lenses or glasses. But if you can't do without glasses, then just be a little more careful while applying colors. Most people surprise you while applying colors on your face and the edges of your specs might hurt you. For lips, simply apply a lip balm, preferable which has an SPF.
After Holi Tips
Scrubbing harshly to remove rigid colors can damage your skin even more. Avoid it!

Hot water shower can dehydrate your skin. Use lukewarm water for a bath to avoid rashes or irritation.

Use cleansing milk to remove hard colors. Apply it on your skin and leave it for 3-5 mins, then wash it off with lukewarm water.

Don't forget to moisturize your skin after a bath. It will help your skin to heal.

Rinse your hair with plenty of water to do away with dry colors. After this use herbal shampoo, massage your scalp gently with it and then rinse it off.
Follow these tips and enjoy your Holi!

Our doctors at Dermaspace recommend a personalised treatment plan based on the area of the body being treated, and the condition we are trying to address with the utmost comfort. Visit our clinic today for any skin and hair related problem.